Back to Discography pages >>

Old Photographs 1984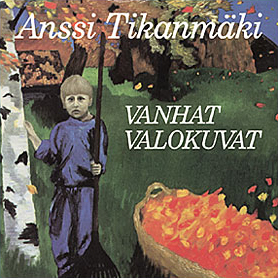 1. Oh Brother
2. Earth to Earth
3. Arvi Hautala`s Jenkka
4. A Love Story
5. Home Yard
6. Grand Slam
7. Wedding Waltz
8. Fanfare
Old Photographs (released autumn 1984)
We all have a pile of old photographs we sometimes browse through in a fit of nostalgia. We all have similar experiences of life: loved ones lost, a familiar back yard... Our photo albums capture moments experienced over the years and surrounded by all sorts of memories and profound emotions; events both amusing and sad.
"Old Photographs" is a disc with a theme, a photo album that transforms memories into music. A new story unfolds each time we gaze at the photos. "Old Photographs" is also a Finnish counterattack by a large orchestra against the invasion of mass
Anglo-American culture.
All compositions by Anssi Tikanmäki
Studio: Finnvox
Engineer: Risto Hemmi
Mixing: Risto Hemmi, Pekka Aarnio, Anssi Tikanmäki
Producer: Pekka Aarnio
Photos: Vappu Tikanmäki., Tuta, Timppa, Elmo sekä Olavi Huovinen
Cover painting: Martti Syrjä
Conductor: Atso Almila
musicians:
Anssi Tikanmäki - keyboards
Peter Lerche - guitars
Heikki Virtanen - bass
Upi Sorvali - drums
Pentti Lahti - altosax/flutes, saxes
Pepa Päivinen - tenor sax
Seppo Heikkonen - recorder, clarinet, tenor sax

Flute: Tapio Laivaara, Markku Muhonen
Oboe, english horn: Jouko Teikari
Clarinet: Kullervo Kojo, Antti Koskela
Bassoon: Juhani Tapaninen
French horn: Markku Paalanen, Pasi Pihlaja
Trumpet: Aki Välimäki, Hannu Koivula
Trombone: Petri Juutilainen, Mikael Långbacka
Baritone: Simo Kanerva
Tuba: Tom Bildo
Percussion: Timothy Ferchen
Morse: Teuvo Puntti
Voices & noises: GRAND SLAM (special thanks to Ana)
Strings: Jouni Heinonen, Jorma Rahkonen, Pertti Kiri, Kari Vanonen, Timo Konttinen, Erkki Hiltunen, Seppo Suikkanen, Ari Rasilainen, Lauri Laasonen, Atso Lehto, Seppo Ristolainen, Lassi Viljanen, Pentti Palmu, Kari Jussila.