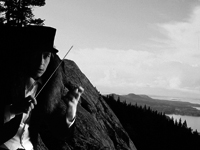 Anssi Tikanmäki was born in 1955, into a farming family of five children at Haapajärvi in Finland. While at school, he took piano lessons and, inspired by the rock bands of the sixties, practised the guitar. During his last few years at school he played in dance and rock bands, touring the open-air summer dance pavilions of Northern Finland.
Entering the Sibelius Academy in 1974, Tikanmäki qualified as a music teacher six years later. While at the Academy, he got caught up in the folk music revival and training launched by Martti Pokela and attended courses at the Oulunkylä Pop/Jazz Conservatory directed by Klaus Järvinen.
In 1977, with fellow students Reijo Karvonen and Esa-Markku Juutilainen, Tikanmäki formed the Ikaros ensemble. Also playing in the band were Peter Lerche and Upi Sorvali. Ikaros represented Finland at the Intervision Song Contest at Sopot in 1978.
Towards the end of the 1970s, Tikanmäki composed the orchestral suite "Finnish Landscapes" (Maisemakuvia Suomesta). This was premiered in November 1980 at a concert by Ikaros and the Sibelius Academy Symphony Orchestra conducted by Jorma Panula. "Landscapes" was also recorded for television and released on disc in 1981.
Around the beginning of the 1980s Tikanmäki was a freelance composer and musician in ensembles with such artists as Hector, Arto Sotavalta and Taiska, and in Young Lovers. During that decade he arranged music for recording by Veikko Lavi, Harri Saksala and others and was the keyboards player, arranger and main producer for Juice Leskinen's Grand Slam.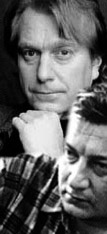 In 1981 Anssi Tikanmäki got to know film directors Mika and Aki Kaurismäki and the following year began collaborating with them. It was he who composed the music for the film "The Worthless" (1982). This was followed by "The Clan" (1984) and a number of other films directed by Mika Kaurismäki. Tikanmäki has also composed the music for feature films by other Finnish directors and for a number of old silent films. His biggest film project to date has been the score for the silent film "Juha" directed by Aki Kaurismäki (1999).
Since 1986 Tikanmäki has been the conductor of the Anssi Tikanmäki Filmorchestra specialising in the accompaniment of silent films. The Filmorchestra has toured the main Finnish towns and made numerous appearances in the other Nordic countries, other parts of Europe and Japan.
Over the past decade or so Tikanmäki has also been composing for the theatre, providing music and sound effects for, among others, the Kalle Holmberg productions (in Finnish) of "The Road to Tampere" (Tie Tampereelle, 1996), "The Unknown Soldier" (Tuntematon Sotilas, 1997) and "The Long Day's Journey into the Night" (Pitkän päivän matka yöhön, 1998). His most recent theatre production is the musical "Here under the North Star" (Täällä Pohjantähden alla) for the Hämeenlinna City Theatre (2002).
In addition to music for stage and screen, Tikanmäki has composed for church organ and released a disc of three chiefly instrumental works for large orchestra: the "Finnish Landscapes" already mentioned, "Old Photographs" (Vanhat Valokuvat, 1984) and "Pizza" (1994). Anssi Tikanmäki's "A Traditional Pop Record" (Perinteinen Pop-levy, 2001) is a record of pop-rock songs sung in Finnish with Sakari Kuosmanen and Tarja Turunen.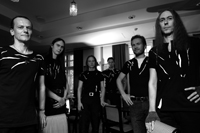 In 2002 Anssi Tikanmäki Orchestra took action. Since that ATO has been performing in different festivals, concerts and clubs. The orchestra plays Tikanmäki´s instrumental music.

Tikanmäki´s most recent release is the album "Anthems" (2012).
In 2013 the legendary singer-songwriter Donovan invited Anssi Tikanmäki Orchestra to accompany him in his tour in Spain and Ireland.
In 2014 Anssi Tikanmäki composed together with Eljas and Eemil Tikanmäki music for Mika Kaurismäki´s epoque film "The Girl King". The film is an interational production, and the star actors are Malin Buska, Mikael Nyqvist, Sarah Gadon, Francois Arnaud and Marianne Gedeck. Tittle song of the film is sung by Johanna Rusanen-Kartano.